Video, Super 8, Objekt, Installation Grafik and Photography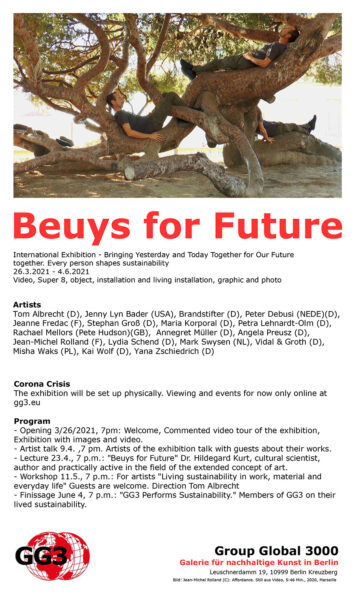 Artists…
Tom Albrecht (D), Jenny Lyn Bader (USA), Brandstifter (D), Peter Debusi (NEDE)(D), Jeanne Fredac (F), Stephan Groß (D), Maria Korporal (D), Petra Lehnardt-Olm (D), Rachael Mellors (Pete Hudson)(GB), Annegret Müller (D), Angela Preusz (D), Jean-Michel Rolland (F), Lydia Schend (D), Mark Swysen (NL), Vidal & Groth (D), Misha Waks (PL), Kai Wolf (D), Yana Zschiedrich (D)
Opening 26.3.2021, 19h00 online:
We bring yesterday and today together for our future.
The German artist Joseph Beuys, who is important for sustainable art today, would have had his 100th birthday in May 2021. We live on his "social sculpture" in our project "Group Global 3000". With the art exhibited there, its worldwide appeal, our togetherness and our ecological and economic practice, we want to stimulate the discourse for a sustainable world.
For Documenta 7, Joseph Beuys planted a total of 7,000 oak trees in Kassel between 1982 and 1987. Commenting on his ecological artwork "Art-Nature-Culture" planned for Hamburg during this time, Beuys said: "The destruction is there, has already progressed so far that it no longer seems repairable to many scientists." Today, the Fridays For Future movement is pushing to take scientists seriously.
We see his sentence "Every human being is an artist" as empowering people to shape their future in a sustainable way. The power of J. Beuys can help us today to solve our global, existential climate crisis. It is his credibility, his green side, his political society-changing action art.
After this exhibition, we continue to call on artists to join his perspective and create works that address the climate crisis and the UN Sustainable Goals in the spirit of Beuys.
Hundreds of artists have responded to our worldwide call for entries to this exhibition.
Programm
As the corona crisis still requires restrictions, we will adjust the exhibition organisation and programme accordingly. The exhibition will be physically set up. Whether the events will take place physically in the gallery or online, you will see here on our site as soon as we have clarity about the lockdown. We are planning a digitally annotated video tour, an online gallery and dialogue video events.
Artist talk 9.4. ,7 pm. Artists from the exhibition talk about their works with guests. (Jitsy-link here from 18:45)
Lecture 23.4., 7 p.m.: "Beuys for Future" Dr. Hildegard Kurt, cultural scientist, author and practically active in the field of the extended concept of art. Co-founder and. Institute for Art, Culture and Sustainability e.V.
(Jitsy-link here from 18:45)
Workshop 11.5, 7 pm: For artists "Living sustainability in work, material and everyday life" How far do we want and manage to live sustainability?
Guests are welcome. Direction Tom Albrecht
(Jitsy-link here from 18:45)
Finissage 4.6, 7 pm: "GG3 performs sustainability". A performance by members of GG3 on their lived sustainability with its successes, omissions and compromises in everyday life, in art with its content or the material used.
Further Beuys exhibitions: Beuys worldwide, in Berlin Hamburger Bahnhof, at arttourist.
53rd exhibition, jury: Tom Albrecht, Mariel Gottwick, curator Tom Albrecht.
Galerie für nachhaltige Kunst in Berlin
Leuschnerdamm 19, 10999 Berlin Kreuzberg