18 February – 31 March 2023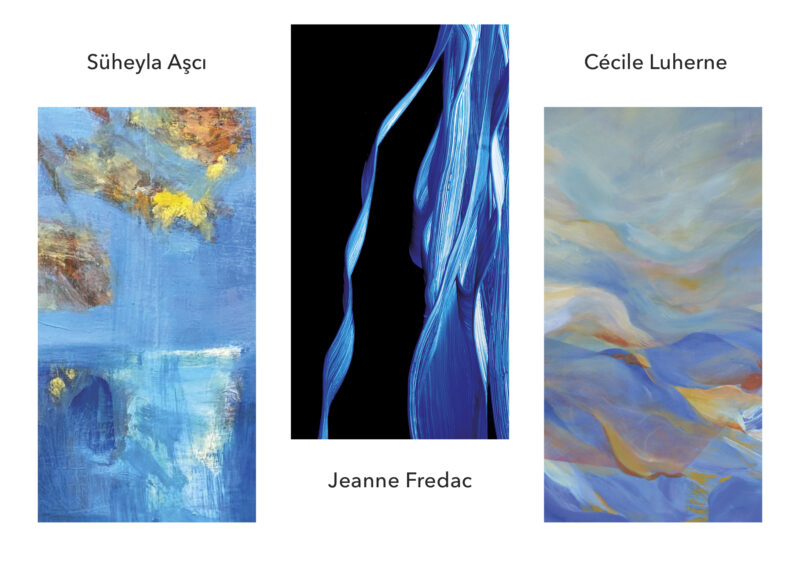 Beyond words
Süheyla Asçı, Jeanne Fredac, Cécile Luherne
Vernissage
Friday, 17 February
at 7pm
Musical accompaniment:
Anne-Christin Schwarz/ Violoncello
Hartmut Walter/ double bass

Süheyla Asçi
The artist herself sees essential elements of her art in colour and spontaneity. She begins a painting without a catalogue of themes and without a fixed end goal. The moment is important! Ideas and conceptions during the painting process are spontaneously "saved" onto the canvas. She loves the search during the working process, which can be described in Turkish as "Dogaclama". The search is more important than the finished painting.
Jeanne Fredac
Jeanne Fredac reveals to us the world of Nuvuti(S), a reconciled, calmed version of the connection between man and nature. The series of paintings are landscapes bordering on abstraction, paradoxically expressing man as much as nature. Her paintings bridge the gap between art and science, between reality and perception, between representationalism and abstraction.
Cécile Luherne
For Cécile Luherne, painting is an emotional exchange. She uses colour to arouse affects and appeals to the senses as in poetry or music. Spontaneity plays an active role in her creative process. She describes her paintings as offspring of the formless magma that makes up her sensory and intellectual experiences and sensibility.

Galerie Sievi
Gneisenaustrasse 112
10961 Berlin
Fon: +49 (0) 30 693 29 97
Fax: +49 (0) 30 693 31 36
mail: info@galerie-sievi.de
Open times
Wed – Fr
14:00 – 19:00
Sa
11:00 – 16:00

www.jeannefredac.com
https://www.instagram.com/jeannefredac/